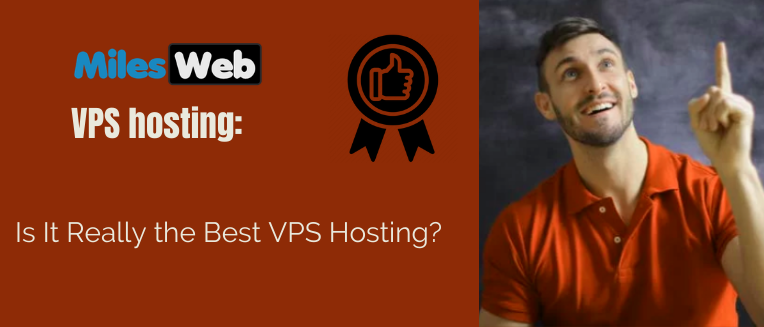 Are you thinking to launch your website online? There are many factors that come into play while choosing a web hosting company which includes domain, design, and development.
While the web design and development part will be handled by your developer, the next step is to pick a web host. There are so many web hosting solutions available, like WordPress hosting, Shared hosting, dedicated server, Cloud hosting, VPS hosting, etc.
Surely, by now you must have done your research and wondering whether you should go for shared hosting or VPS hosting. If you need more advance feature to operate your website but can't afford dedicated or cloud hosting then VPS hosting is the best option to start your web hosting journey. When it comes to cheap Linux VPS solution I can't find any other option than MilesWeb as there is no compromise on quality anywhere.
MilesWeb VPS is best suitable for:
High traffic websites
Growing business websites
For those who need a customizable server
Blog/ personal websites
For dedicated server resources
Features offered by MilesWeb VPS are as below –
Cloud infrastructure:
This will enhance the performance of the website with the best output. VPS plans are deployed on cloud infrastructure with built-in SSD storage giving excellent reliability and performance. They also have the finest plans for cheap windows VPS hosting for windows users.
Solid – State Drives:
MilesWeb offers SSD drives that are fast and durable that increases the speed of the website which gives you excellent speed.
Resources monitoring dashboard:
If you are getting full root access then it is compulsory to monitor the resources in the dashboard and you get this feature in the MilesWeb VPS plan. Due to simple and user – friendly dashboard, you can perform many activities like reboot VPS, monitor memory usage, server load and managed other configurations of your VPS server.
Free VPS Migration:
With MilesWeb you can easily migrate your hosting from the existing provider to
MilesWeb without any costing.
Host multiple websites:

You can host multiple websites from a single virtual private server under the VPS account.
Instant provisioning:

If you are waiting for hours or too long to get your problems solves than it's the right time to switch to MilesWeb VPS where you will get amazing support for any issues.
Robust Infrastructure:
You get infrastructure which includes like Cisco, Dell, Supermicro and HP you get cutting edge servers for best uptime and stability.
Customer feedback
Advantages of VPS hosting –
Complete control of server: Get complete SSH access of your VPS server. Secured: As you do not share any resources with other websites directly, your hosting account is much secured. Also, you get well enough performance just as you expect in dedicated resources the website performs ultimately greater.
Review by existing MilesWeb customer –

MilesWeb VPS hosting plans :
All the VPS hosting plans of MilesWeb are powered by Digital Ocean.
The starting price of their cheap VPS hosting is Rs.630 per month.
Starting from V1 to V14 all VPS hosting plans are available so that you are free to choose that once that suits the best according to your site.


With MilesWeb Linux VPS Hosting, offer multiple Linux OS options with full root SSH access.
You can select the operating system of your choice.
The available options are:
CentOS
Ubuntu
Debian
Fedora
cPanel VPS Hosting
If you are looking for an easier way to manage a Linux VPS hosting server than MilesWeb would be a great option for you.
Don't worry! Control panel simplifies the VPS management task. cPanel and Plesk are the industry-leading control panel.
Using the control panel, you can manage websites, emails, databases and much more. To install apps like WordPress, Joomla, Drupal and over 400 apps with 1One click installer.
" Amazing features offered by MilesWeb: "
1) Quality customer support:
With MilesWeb you get excellent quality support for your site you can connect to them 24×7 whenever you required if any issues arise or have any problem their support service is extremely brilliant.
2) Maximum uptime:
With MilesWeb you get uptime up 99.95%. They are set up on Tier 3 and Tier 4 data centres that ensure reliability, security and robust performance.
3) 30 days money back:
The only thing you have to make sure is to read the terms and conditions of refund policy. They are trusted company that is 100% assurance of giving you refunded within 30 days of a money-back guarantee if you are not happy with their services but I guarantee this could not happen in your case as you will definitely like their services for sure.
MilesWeb VPS Hosting Conclusion:
MilesWeb truly offers advanced VPS hosting services at prices that cannot be matched in the industry. It has been able to win the trust of thousands of users because of its unfettered dedication to matching the elements of quality and quantity they offer are amazing.
Also Read: Best web hosting for WordPress and Top 10 cheapest web hosting in India.
1,135 total views, 1 views today