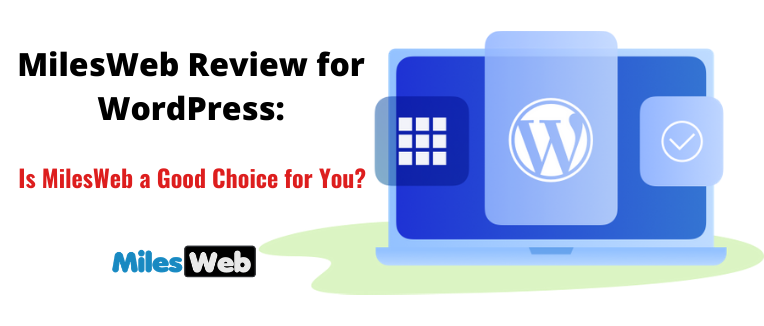 MilesWeb Review for WordPress: There are plenty of WordPress hosting providers that offer affordable plans, so they're a bit hard to believe. That's great for you as a customer, especially if you're on a budget. However, when it comes to low-cost hosting, you need to be extra picky if you want to end up with a quality provider. It's a fact that selecting the best web host isn't very easy today. But if you keenly look for the features and pricing of different web hosts and then select one for your website, your decision will be right.
WordPress is said to be one of the brilliant and popular platforms for CMS building websites and your website is build using the same. WordPress hosting India is the best option for you.  An enormous community throughout the world preferred WordPress. The good news is some hosting providers offer amazing WordPress hosting plans at very low prices. If you do your research, you can get away with paying only a few dollars each month for hosting.
At the same time, that doesn't mean you'll need to compromise on quality. In this article, we're going to talk about what qualifies as Cheap WordPress hosting.  We'll also do some briefing about the best WordPress hosting provider with the same.
How to find a good WordPress host in India? If you are looking for affordable WordPress hosting that offers fast performance, then my vote goes to MilesWeb as the best choice to get your site hosted.
" Know something about MilesWeb "
MilesWeb
MilesWeb is recognized globally but more in India within very little time. It didn't take much time for the company to expand in other countries due to the class service. They became popular due to their affordability, reliability, and secure which also known for their unlimited web hosting services. Also, they offer a wide range of web hosting solutions that match each type of business. 
MilesWeb offers the best platform for WordPress Powered website. With automatic access to Add-ons and plug-ins, it becomes quite manageable to do business.
They offer easy access with a wide range of free templates, themes, and plugins to get your website more dynamic.
MilesWeb WordPress Hosting packages are configured with excellent features which include Apache, PHP and MySQL, and also other required components. All users can get access to a free private SSL certificate. You can also get the same for the WordPress website with an option to include a dedicated IP which will cost you a little.
Features offered by MilesWeb WordPress are as follows –
Free Domain
Automatic WordPress Updates
Fast SSD
Free SSL
WordPress Preconfigured
Fast Provision
Secure Email
Datacenter choice
" Reviews by best websites to MilesWeb –"  

MilesWeb offers WordPress cloud hosting with LiteSpeed Web Server and LSCache.
 LSCache offers a high-performance solution for meeting the requirements of managing high loads and sudden traffic spikes. LiteSpeed Web Server with inbuilt LSCache works as an all-in-one acceleration solution.
MilesWeb WordPress hosting by Cloud Hosting –
Below are the features offered by LiteSpeed Web Server:
You can handle tons of concurrent users. There is no rapid drop of more than 100-200 concurrent users.
PHP LSAPI offers high speed as compared to PHP or FPM. Static files are server 4 to 6 times faster than compared to Apache. LS Cache acts as a game-changer since it offers 100 times faster speed.  
Your server capacity gets tripled and the cost of hardware and support gets reduced.
Reasons for Using LiteSpeed + LSCache:
Crawler
Server-Level Full Page Cache
Content Delivery Network Support
Private Cache
Browser Cache Support
Edge Side Includes (ESI)
Lazy Load Images
CSS, JavaScript
Image and Database Optimization
MilesWeb Review for WordPress Conclusion –
We can confidently recommend the provider in this briefing. However, MilesWeb, in particular, is a great choice from a price-performance standpoint. Plus, MilesWeb includes a monthly payment option, which is rare for any budget web host.
If you have any question about WordPress hosting plan that is good for your site?
Let's talk about them in the comments section below or visit their website for more details!
MilesWeb Vs GoDaddy – Which one is better
Personally, I used both the websites for hosting my client's websites and my personal blogs also. And My Reasons to like MilesWeb over Godaddy. As you know Godaddy is also a very good hosting provider but due to their high advertising, they have high prices.
Godday's WordPress hosting is a much higher price than MilesWeb
The speed of hosting is almost the same for both.
The support system is good for both of them but Godaddy has the world's no. 1 in it.
Renewable prices are good in Milesweb. Godaddy increases renewable prices for every product.
security levels are the same for both.
Summary for MilesWeb Review for WordPress
Milesweb is a nice hosting provider. According to my personal experience, they provide better support and price are very less than other market competitors. I personally used MileWeb for the last 1 year and my feedback to them is 4.5 out of 5.
Also Read: Best VPS Hosting for Your Website. and Top 10 cheap web hosting providers.